This is a map I converted from Quake 2 a few years ago. It's a smallish map with simple layout set in the cartoon land of Southpark.
It features all custom textures, a teleport, and a custom sky. It also includes a lemonade stand run by Kenny which Hypov8 added to the map. See what happens when you kill Kenny :)
You can download Southpark KP (ver2) from here.
Just unzip all files to your Kingpin folder.
To check if you already have the map look for southpark_kp_v2.bsp in your Kingpin/main/maps folder.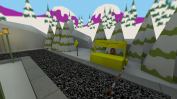 ---