The Quake 2 map The Edge was probably the most famous death match map for many years. It was converted to many other games including Kingpin of course.
One of the Kingpin versions is The Alll Mighty Edge by DirtyDog:-
Full retexture, relight and in many cases rebuild. It was a challenge to get this to compile properly because of all the angled/curved brushes but all in all it worked out fine.
You can download The All Mighty Edge from here.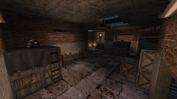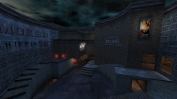 ---