Venom is a Marvel comic character who is a supervillian or antihero.
The zipfile contains a Venom skin and a skin of his host Eddie Brock.
Yopu can download the Venom thug skin from here.
Just unzip all the files to your kingpin folder and they will be placed in the correct locations.
Easiest way to select these skins is to:-
Pull down the console (tilde key ~)
Type in :-
skin "male_thug/1ed 1ed 5vm"
or
skin "male_thug/5vm 5vm 5vm"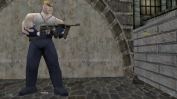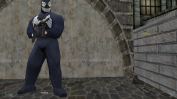 ---