Atrophy Lava Tomb is a conversion of Quake 2's Q2DM6 Lava Tomb death match map by Pigwhistler.
This one is textured similar to the other Quake 2 map conversions he did using standard Kingpin textures.
The Quake Wiki briefly describes Lava Tomb as - the map is entirely indoors, a dark and sooty place with numerous lava pits and traps.
It's one of my favourite of the official Quake 2 map conversions.
You can download Atrophy Lava Pit from here.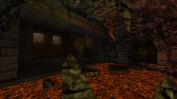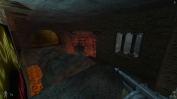 ---