A few years ago DirtyDog made a zombie bitch skin called Zombie Killer Nurse which was made for Sonik's House of Death Single Player map pack.
There are two versions of this skin in the zipfile one with red health markings and one without.
You can download Zombie Killer Nurse from here.
Just unzip all the files to your kingpin folder and they will be placed in the correct locations.
Easiest way to select these skins is to:-
Pull down the console (tilde key ~)
Type in :-
skin "female_chick/0z1 0z1 0z1"
or
skin "female_chick/0z2 0z2 0z1"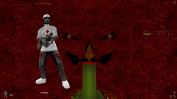 ---